Here you will find some articles, interviews, reviews on Mirta Jacober, her project Voce Autentica (Authentic Voice) and the album of songs TROVO TE (I find you)
"Sometimes jewels are born…sometimes, like eagles, albums are born that rise and rise, giving us the sensation and the relief of flight. "Trovo te (I find you)" is one of theese. It is the music that reconnects us to the soul, to our essence. A record that returns us to the true meaning of the word "feeling", to feel ourselves and what surrounds us with authenticity. And authentic Mirta is, her voice is beautiful and sincere and her music is so powerful and at the same time so sweet, so she can make her way inside us easily. (Francesco)
I heard something magical in your songs, which transports the mind far away into a world where you live at peace with yourself and with all creation… (Elsa Maria Teresa)
Apart from the voice which is breathtaking, crazy… the lyrics are truly wonderful, beautiful, deep, awakening… (Rita)
"A fun, emotional, deep and light album!" (Alexander)
Interview for MANACOR MARCAL (Mallorca, España), n. 10 november 2018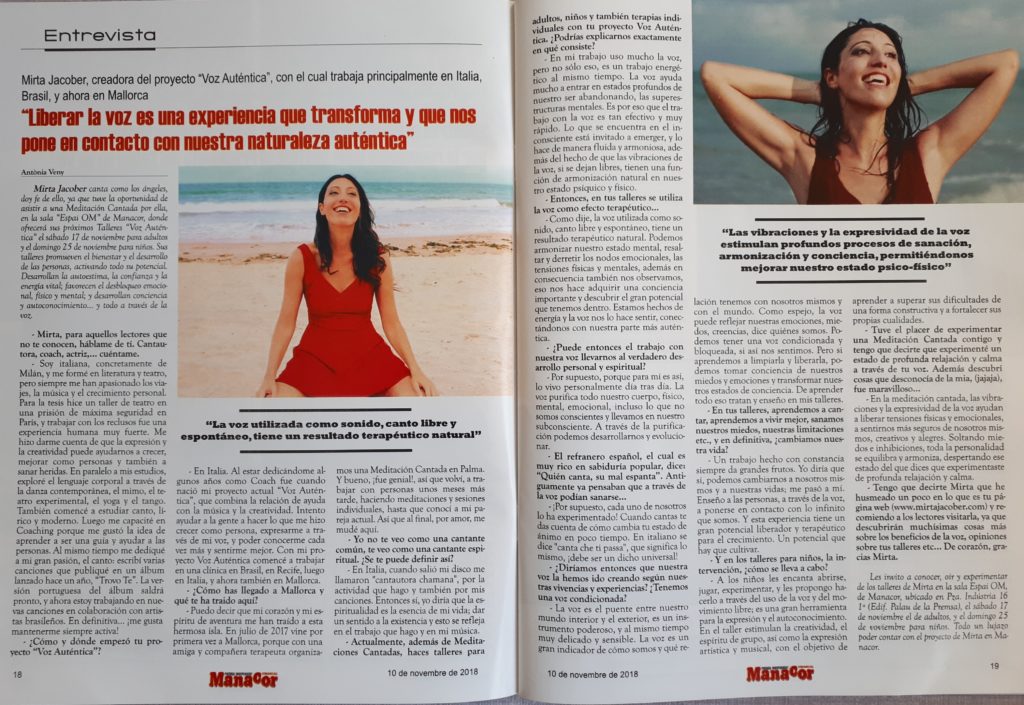 Lee la entrevista aqui o en las paginas abajo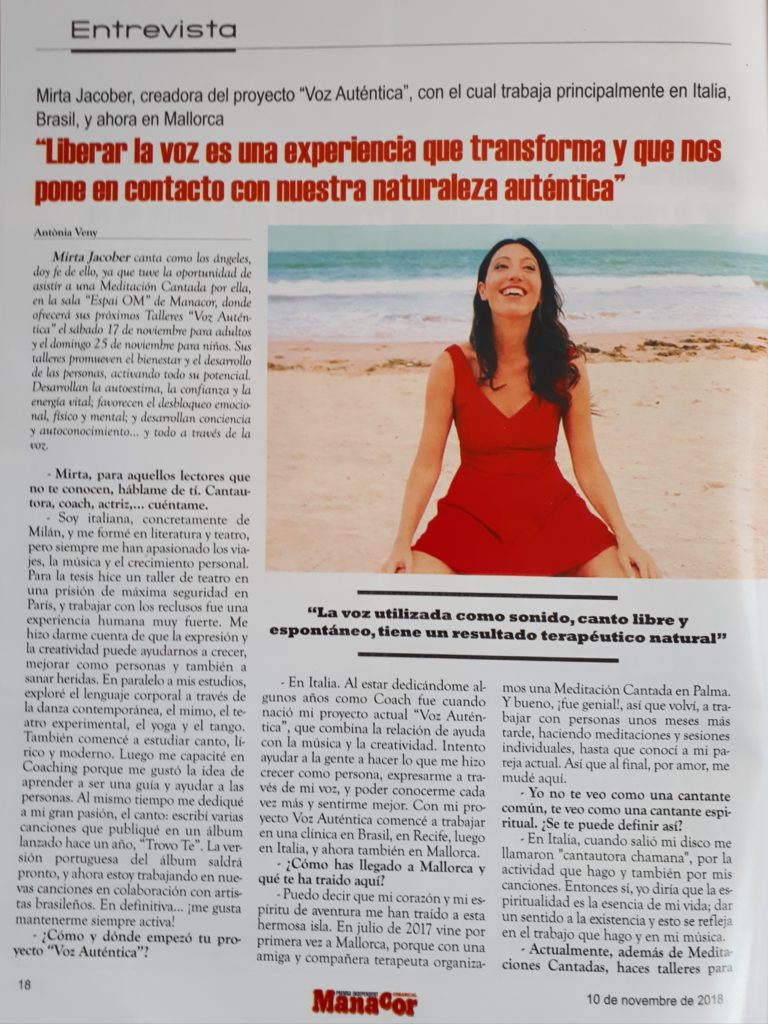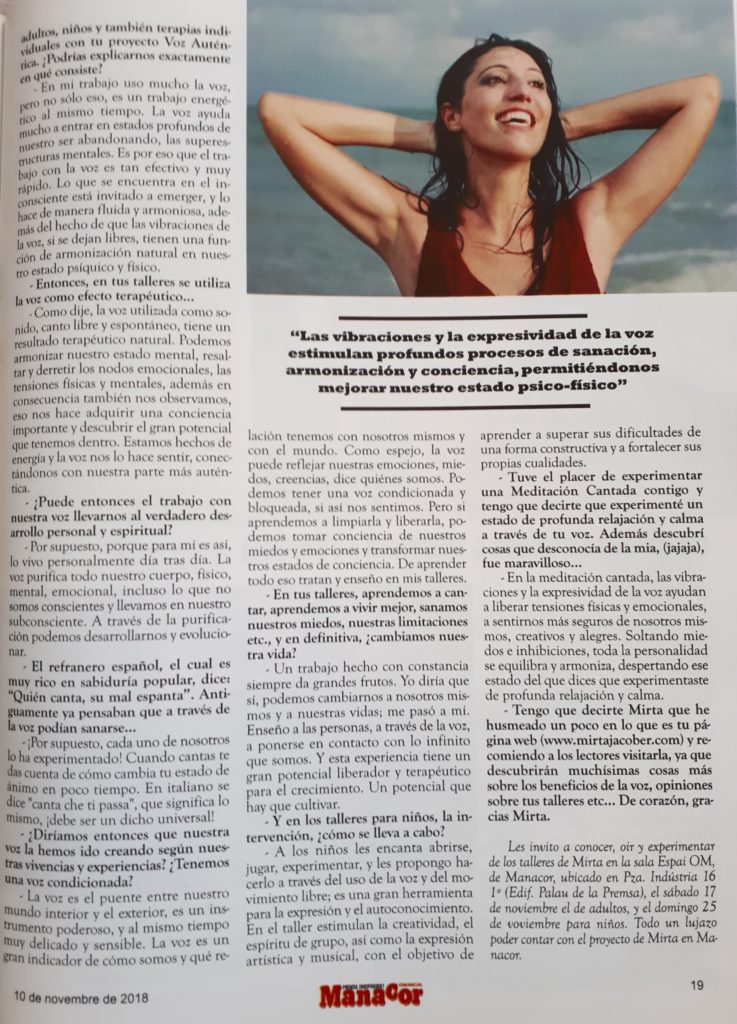 ENTREVISTA PARA RADIO CAPITAL
ENTREVISTA PARA RADIO LOMBARDIA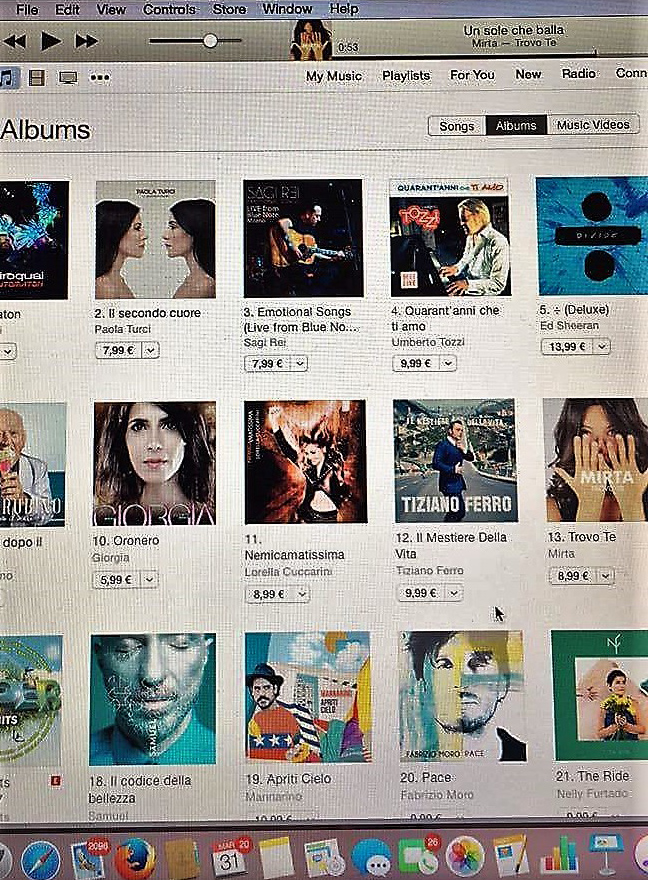 MIrta's Album "TROVO TE" , published on 31st of march 2017 entered the Itunes Top Album.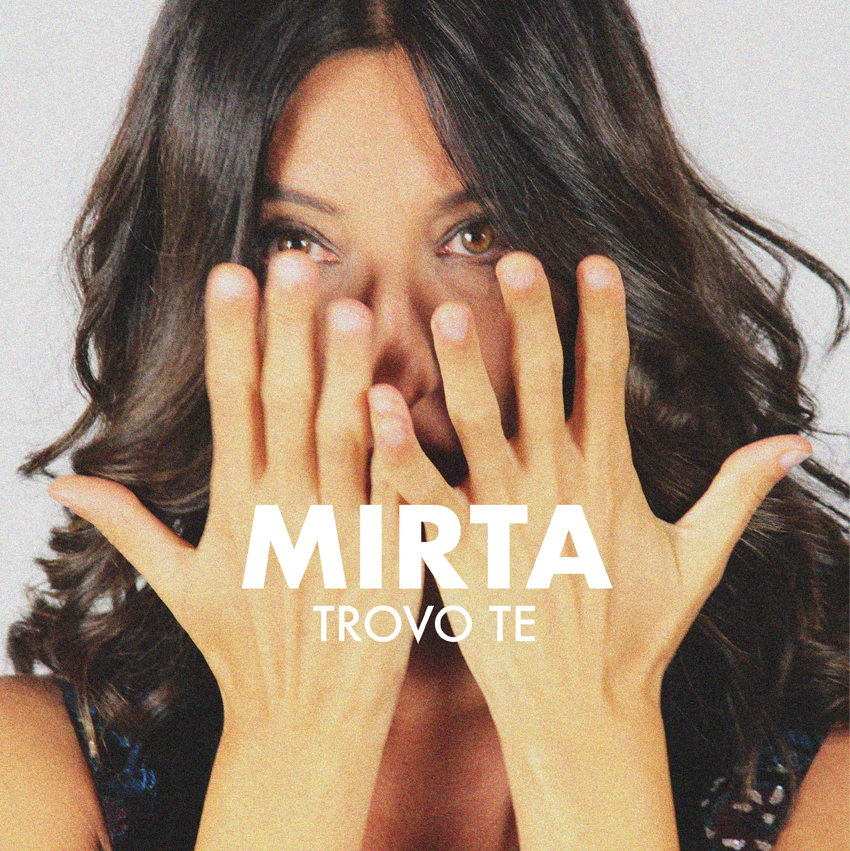 DONNA MODERNA del 12 abril 2017 publica una noticia sobre Mirta Jacober y su album TROVO TE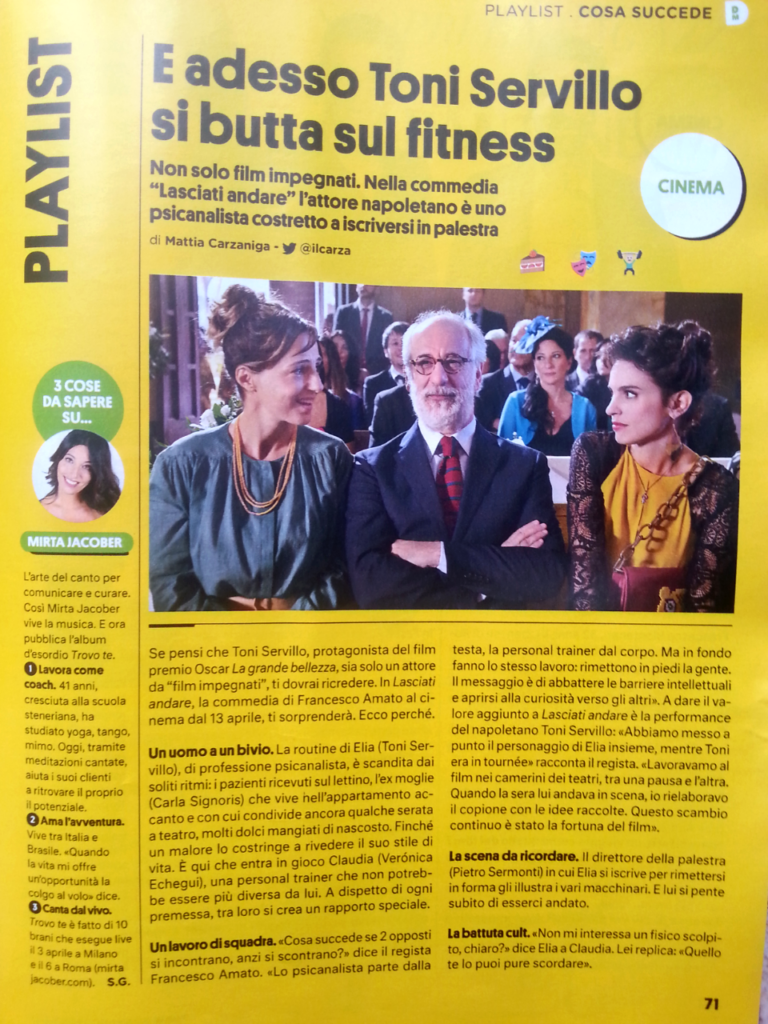 "3 COSE DA SAPERE SU MIRTA JACOBER
L'arte del canto per comunicare e curare. Così Mirta Jacober vive la musica. E ora pubblica l'album d'esordio Trovo Te.
1. Lavora come Coach
2. Ama l'avventura
3. Canta dal vivo"
D di REPUBBLICA del 18 febbraio 2017 pubblica una notizia su Mirta Jacober e la sua Meditazione Cantata.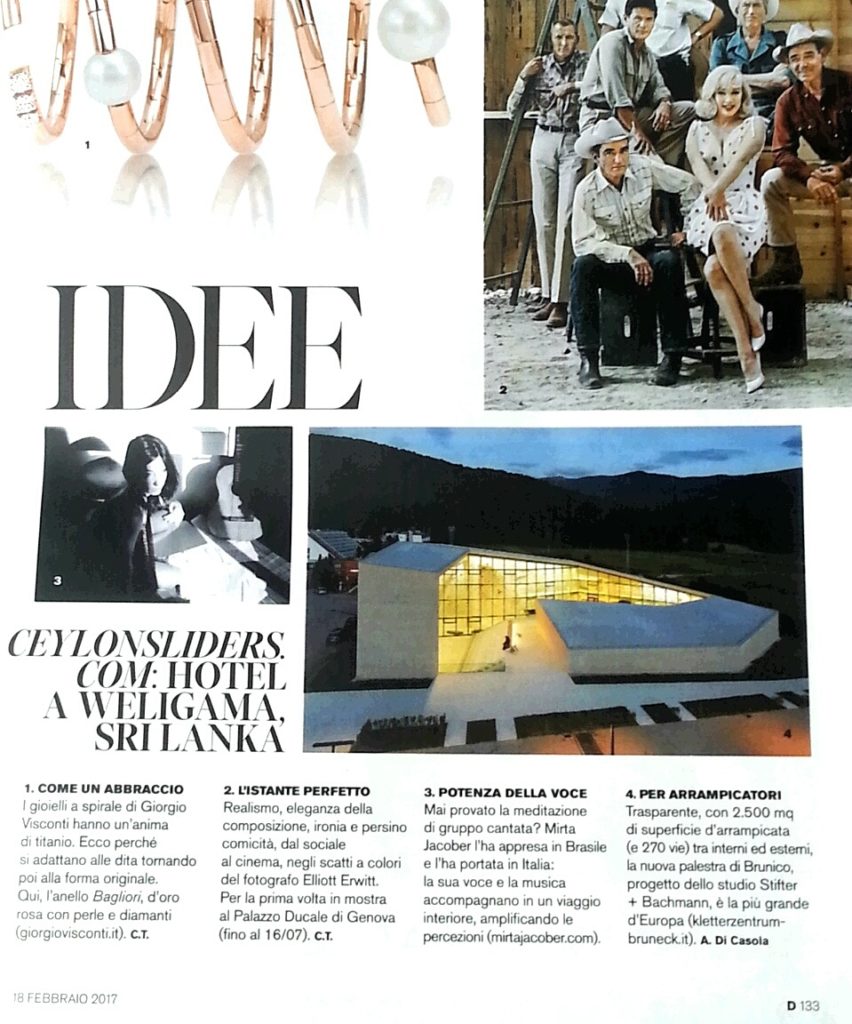 "POTENZA DELLA VOCE
Mai provato la meditazione di gruppo cantata? Mirta Jacober l'ha appresa in Brasile e l'ha portata in Italia: la sua voce e la musica accompagnano in un viaggio interiore, amplificandone le percezioni"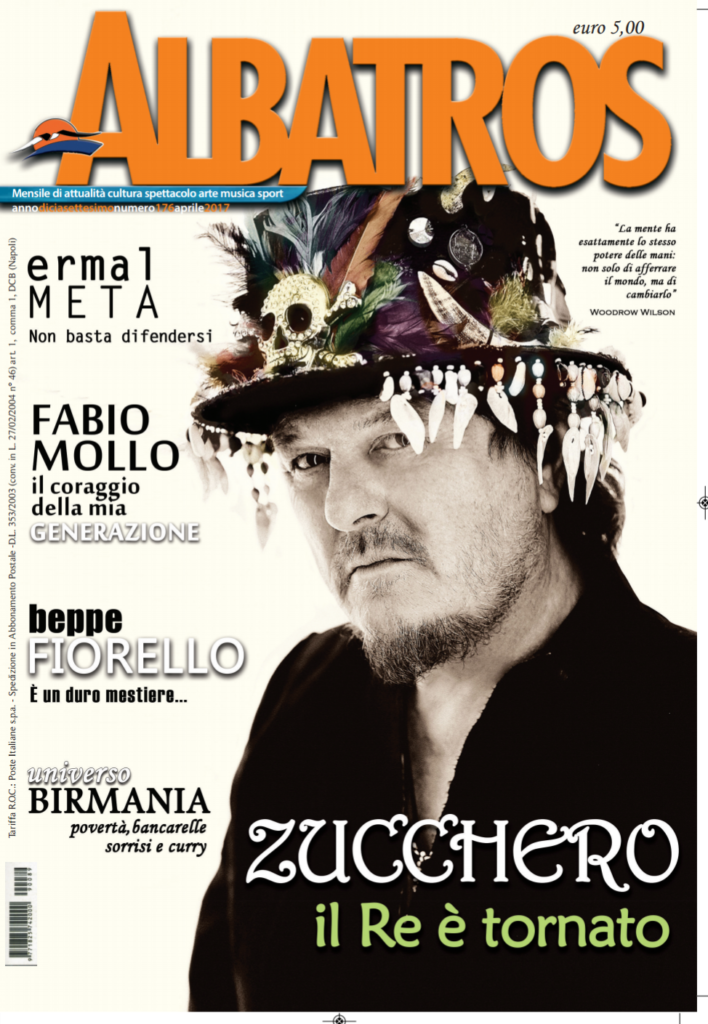 LA RIVISTA ALBATROS INTERVISTA MIRTA JACOBER IN OCCASIONE DELL'USCITA DELL'ALBUM TROVO TE
"CANTO PER CURARE!"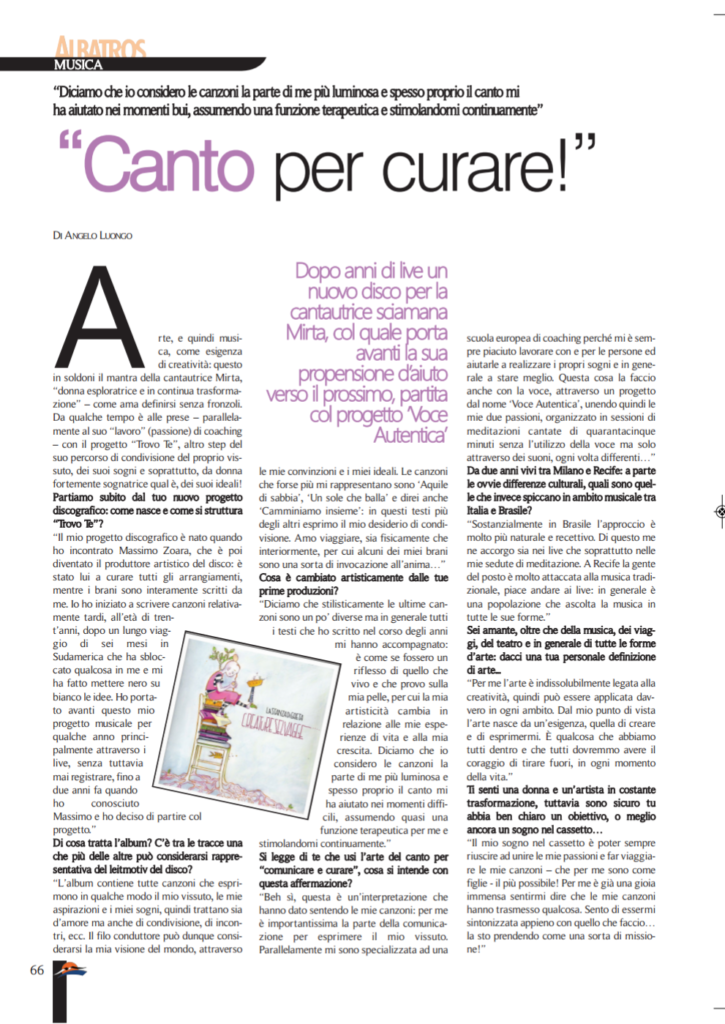 RASSEGNA STAMPA ONLINE
CLICCA SUI TITOLI PER LEGGERE LE RECENSIONI e INTERVISTE
TGCOM 24.it pubblica in anteprima il videoclip di Aquile di Sabbia, il singolo che anticipa l'uscita dell'album Trovo te. E questo articolo: "MIRTA, BODY PAINTING TUTTO D'ORO PER LA CANTAUTRICE SCIAMANA"
FUNWEEK (IL MESSAGGERO) pubblica in anteprima il video di Un Sole che Balla, il secondo singolo tratto dall'album Trovo te. Girato a Olinda, in Brasile: "MIRTA, IN ANTEPRIMA SU FUNWEEK IL VIDEO DI UN SOLE CHE BALLA". Una location suggestiva per un brano che parte da una consapevolezza: ogni essere umano è collegato agli altri da un unico destino
TEMPI-DISPARI.it intervista Mirta: "LA MUSICA COME CURA: MIRTA RACCONTA TROVO TE"
DUERIGHE.com VIDEO intervista a Mirta: "La musica che comunica e che cura"
TEMPI-DISPARI.it pubblica l'articolo per l'uscita del videoclip: Mirta, Aquile Di Sabbia il nuovo video del brano che anticipa l'uscita del disco
ALL MUSIC ITALIA.it pubblica l'articolo "MIRTA: IL POTERE CURATIVO DELLA MUSICA VIVE ATTRAVERSO LE CANZONI DELL'ALBUM TROVO TE"
WEBLOG.net: pubblica l'articolo LA MUSICA COME COMUNICAZIONE AUTENTICA: "TROVO TE" è IL DISCO D'ESORDIO DELLA CANTAUTRICE MIRTA
ARTELIVEANDSOUND pubblica l'articolo: IL DISCO D'ESORDIO DELLA CANTAUTRICE SCIAMANA CHE USA L'ARTE DEL CANTO PER COMUNICARE E CURARE "TROVO TE" DI MIRTA
ITALIAARTMAGAZINE.it: Con il videoclip "Aquile di Sabbia" il linguaggio sperimentale della performance art incontra quello della musica pop
MESCALINA.it pubblica l'intervista di Giuseppe Verrini "MIRTA, Disco d'esordio della cantautrice che usa l'arte del canto per comunicare e curare"
DIREZIONE BELLEZZA.it pubblica l'intervista "Cantante, artista e terapeuta: ecco Mirta Jacober"
START UP IN ROSA.it pubblica l'intervista "Trovo te, il primo album di Mirta: in musica e parole la storia di una cantautrice originale"
YOUREPORTER.IT, intervista di Irina Tirdea: Mirta Jacober, esce l'album trovo te
YESNEWS.it, intervista: MIRTA, LA CANTAUTRICE SCIAMANA
DASAPERE.it intervista MIRTA
POLINEWSBLOG.it intervista Mirta: Mirta Jacober si racconta e presenta il suo cd Trovo TE
ONE TV:  VIDEO intervista di Marco Ciapparelli: Trovo Te